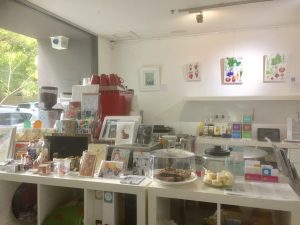 Sydney's Art Gallery and coworking in Sydney's Chippendale Creative Precinct delivers great news (and great coffee) for both Chippendale locals and coworkers alike.
Housed in the CoSydney CoWorking + Project Space, ArtSHINE Coffee house is a unique food venue, gallery space, and cafe. And it's fast becoming one of the must seek-out, must-visit, places for local residents, Chippendale business owners and their teams, coworkers and creative industry professionals, and visitors to the art, innovation, and creative precinct of Chippendale.
ArtSHINE Coffee House is an integral part of the CoSydney CoWorking + Project Space located at 3 Blackfriars Street, Chippendale; a four level multi purpose commercial building providing dedicated coworking and shared office services along with meeting spaces, art gallery, and event spaces.
CoSydney CoWorking + Project Space was established by business partners Vinh Van Lam & Stuart Horrex as a dynamic and inspiring coworking venue for creative industry professionals and mobile workers, freelancers, business owners, and social entrepreneurs who seek connection with a community of support and encouragement together with a relaxed and practical approach to the business of creativity and innovation.
Within the CoSydney complex, visitors will find the new ArtSHINE Coffe House, the ArtSHINE Art Gallery, the retail space showcase artists and designers products, ArtSHINE also runs regular meet up, workshops, and events.
ArtSHINE Coffee House with free wi-fi, is headed up by Chef Brett Shorter, a culinary professional who worked with CoSydney cofounders Vinh Van Lam & Stuart Horrex when they owned and operated the multi-award winning Lauralla Guesthouse and Grapevine Restaurant in the Central Ranges wine region of New South Wales.
ArtSHINE Coffee house is set to become one of the sought out cafes and art galleries located in the Chippendale Creative Precinct and will also offer two extra options: catering for business functions, parties, and events. And, harking back to Lauralla's Grapevine Restaurant days, a seasonal tasting menu with matching wine for invited guests at the start of each new season.
Cofounders Vinh Van Lam & Stuart Horrex invite you to drop in, meet up, lunch, simply grab something quick to go on your way to work, or stop a while, recharge and just to gaze at the amazing artwork.
For those with a busy lifestyle, why not order your coffee on the go by downloading Skip on your smartphone, an app enabling you to save time, order ahead, and 'skip' the queue.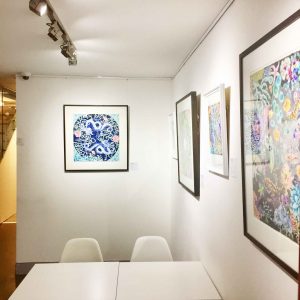 For more details contact Vinh Van Lam & Stuart Horrex:
Phone: +61 29698 9156
Mobile: +61 410 636 138
E-Mail: Vinh@CoSydney.com.au
Skype: VinhVanLam